PLANNING FAQ
1. DA #1 - Concept Plan
WHAT IS THE PURPOSE OF THE CONCEPT PLAN?
The Concept Plan seeks to lock in the overall development parameters including building footprints, total dwelling yield and parking, within the current footprint of the IBM development. The Concept Plan demonstrates the site wide masterplan design to provide certainty for the community, Council and Mirvac. It puts forward only 418 dwellings not 600 – 30% less than is permissible under the rezoning. There are no 86sqm lots they start at 150sqm to 500sqm and go up to 700sqm. Only 4 apartment buildings not 9. Less traffic generation. 2 & 3 storey houses in the R4 zone where 22m apartment buildings can be located under the zoning controls.
WHAT IS THE TOTAL NUMBER OF DWELLINGS?
The Concept Plan proposes a total of only 418 dwellings, which is 30% less than the 600 dwellings that are permissible under the planning controls.
HOW MANY HOUSES AND APARTMENTS ARE PROPOSED?
166 houses and 252 apartments are proposed as part of the Concept Plan. These dwelling numbers result in a 17% reduction in houses that were proposed at the time of the sites rezoning i.e. 200 proposed, only 166 now sought, and a 37% reduction in the apartments that were proposed at the time of the sites rezoning i.e. 400 proposed, only 252 now sought.
WHAT IS THE OVERALL TIMEFRAME FOR THE DEVELOPMENT (PLANNING, DEMOLITION, CONSTRUCTION)?
The timeframe can be split into two components. The first being demolition works which, following recent approval and post satisfaction of pre-commencement conditions, are anticipated to commence early 2022 with an approximate duration of eight months.
The second component being the civil infrastructure and construction of the new dwellings and associated landscaping. The timeframe associated with these works are dependent upon the planning process and market conditions.
HOW MANY RESIDENTS WILL LIVE HERE ONCE COMPLETED?
It is envisaged the proposed population once completed will be approximately 1,045 residents, which is a 65% reduction from the previous use where approximately 3,000 workers used the business park.
WHAT WORKS ARE PROPOSED AS PART OF THE CONCEPT PLAN DEVELOPMENT APPLICATION (DA)?
The Concept Plan DA includes items such as bulk civil works consisting of new roads, retaining walls where relevant and a re-grading of the site as it has previously been heavily altered, disturbed and excavated to suit the bespoke nature of the business park. The existing levels are not suitable for a proposed new family friendly residential community and are required to be re-graded to meet new requirements including stormwater management, accessibility and Australian Standards.
DOES THE CONCEPT PLAN COVER THE WHOLE SITE?
The Concept Plan relates to the development footprint established by the highly disturbed, modified and excavated part of the site for the previous use as a business park. This area is generally contained within the existing perimeter road and an Asset Protection Zone will be offset outside of the E2 Environmental Conservation zoning.
WILL THE EXISTING INTERNAL PERIMETER RING ROAD AND SITE ENTRY POINTS BE RETAINED?
Yes, the existing perimeter ring road and site entry points will be retained, embellished and widened on the inside of the perimeter road in certain areas to comply with emergency access and other requirements.
WHAT IS HAPPENING TO THE E2 FOREST?
The Concept Plan seeks to preserve and enhance E2 Forest areas. Approximately 10 hectares of Forest areas will be dedicated to the State government as Public Open Space. This is the first time in approximately 100 years that the land will be legally, publicly available.
Mirvac will also be making a significant cash contribution for the maintenance and upkeep of the dedicated land. In addition, weed management and other regeneration works will occur as part of the handover to the State government.
WHAT IS HAPPENING TO THE FLORA AND FAUNA ON SITE?
Trees planted as part of the IBM development of the site in the 1980s include species of Lemon Scented Gum and Swamp Oak that are outside of their ecological range and problematic for the critically endangered Blue Gum High Forest (BGHF) and Sydney Turpentine Ironbark Forest (STIF) that occurs naturally on the site. Under the Concept Plan these trees and others which are generally planted landscaped species that were associated with the former IBM development, are to make way for a family-friendly residential community to be replaced with trees selected to be more sympathetic, local and appropriate to be located adjoining BGHF and STIF. Any fauna relocation will need to occur under the strict protocols of a Fauna Management Plan approved by Council and implemented by an experienced and qualified team of experts.
WHAT INITIATIVES IS MIRVAC SEEKING TO IMPLEMENT TO ENSURE ONGOING ECOLOGICAL PROTECTION?
- A Fauna Management Plan that is to be approved by Council and followed by Mirvac.
- The proposal seeks to enrich the existing connected habitats through the creation and linking of additional habitat with new connections and landscaping including artificial hollows, the addition of bird boxes as well as new planting of endemic trees and shrubs.
- Ongoing management of the vegetated areas on the site will be the subject of a Vegetation Management Plan.
- The proposal will create a new 11m setback from our Coonara avenue boundary, retaining existing trees along Coonara Avenue.
- A tree replacement strategy that aligns with the ecological attributes of the site.
- Asset Protection Zone outside of E2.
- Strict adherence to any conditions of consent that may be imposed under any approval.
- Dedication of 10ha of remnant forest areas to the State government as Public Open Space. In addition, a significant cash contribution will be made for its ongoing future maintenance.
- Ongoing engagement of and direction from world leading consultants and experts in relation to ecological matters.
- Federal government referral under the EPBC Act complete. Proposed works determined not to be a controlled action.
WHAT PUBLIC AMENITY BENEFITS ARE PROPOSED UNDER THE CONCEPT PLAN?
- Protection and enhancement of critical forest areas
- 10ha approx. of forest areas to be dedicated to State Government as Public Open Space and significant cash contribution for future maintenance
- Legal public access to site including forest areas and new open spaces, first time in over 100 years
- Material reduction in total number of dwellings that are permissible under planning controls and traffic generation
- Tree replacement proposal more sympathetic to the Blue Gum High Forest and Sydney Turpentine Ironbark Forest
- New family friendly housing choice near metro station
- Repurposing of redundant site
WHAT AMENITY BENEFITS ARE PROPOSED UNDER THE CONCEPT PLAN?
The Concept Plan sets out the publicly accessible areas of the development that includes an array of parks, green links, site through links and pause points, connecting these areas to the surrounding Forest trails for the community to enjoy.
As part of site planning controls, the area marked Item 23 of The Hills Local Environmental Plan 2019 (current multi-level car park) allows additional permitted uses, which includes outdoor Recreation Areas and indoor Recreation facilities. At this stage of the process, this area is envisaged to be Recreation Areas and Facilities for future residents and their guests. A detailed development application for this item will be lodged in the near future and will outline further details proposed.
In relation to the area marked Item 24 under the rezoning controls, Mirvac is working on a regeneration proposal with an organisation called Jiwah. This space is proposed to be an native indigenous cultural garden that aims to repurpose the vacant land, prioritising its ecological and cultural significance. We look forward to sharing the details of this area once a detailed development application has been lodged, which we are also aiming to submit in the near future.
Separately there are also plans to upgrade the walking trails and replace the existing timber bridges through the forest dedication area for the future benefit of the community.
WHAT IS HAPPENING WITH THE OPEN AREA ON SITE ADJOINING THE CUMBERLAND STATE FOREST?
We have been working with indigenous landscape design consultancy, Jiwah, to create a special Indigenous cultural proposal for the area marked Item 24 of The Hills Local Environmental Plan 2019.
Key features of the concept for this area include regeneration zones, nature play, cultural classroom, entrance garden, sheltered area, and vegetated swales and bio retention basins.
The proposal aims to involve seed harvesting of existing vegetation communities to ensure appropriate genetic diversity along with the planting of a significant number of new trees. This area will be the subject of a future development application to be submitted to Hills Shire Council.
WHAT STEPS HAVE BEEN TAKEN TO ENSURE DESIGN EXCELLENCE WITH THE CONCEPT MASTERPLAN?
The site has undergone several years of design investigation, analysis, and review, both conceptual and detailed. It has included feedback from industry leading architects and consultants in addition to the detailed efforts completed by Mirvac Design. In March 2021 Mirvac voluntarily participated in Councils Design Excellence Process. Feedback obtained from this process was duly considered with significant amendments, revisions and refinements made to the design. A second Design Excellence Process occurred with Council in December 2021 and we are looking forward to finalising the process with Council. The Concept Plan presents a well-considered and balanced design that places ecological, environmental and social sustainability matters at its core. It aims to set a new benchmark and lasting legacy in sustainable residential development for the Hills.
HOW DOES THE SITE ADDRESS BEING LOCATED IN A BUSHFIRE PRONE AREA?
The proposed development has been designed with all relevant bushfire measures taken into account guided by an appropriate expert bushfire consultant. In addition to an Asset Protection Zone, the internal road networks including the perimeter road allows attending fire services access to bushfire hazards. Buildings will be constructed to the required Bushfire Attack Level under Australian Standards.
2. DA #2 - SOUTHERN HOUSING PRECINCT
WHAT IS THE PURPOSE OF THE HOUSING SOUTH DA?
The Housing South DA is a detailed DA which proposes 61 of the total 166 houses sought under the Concept Plan. This DA sits within the framework established under the Concept Plan and enables construction of this first housing stage. Future DAs will be lodged for the balance of the housing which will ultimately achieve the total 166 housing dwellings. The Southern Housing DA also includes final detailed lot civil works to prepare each lot for dwelling construction, and final embellishments of nominated landscaped areas and road surfaces.
WHAT ARE THE LOT SIZES OF THE PROPOSED HOUSES?
Lot sizes that are proposed under the Concept Plan range from 150m2 to 500m2 and beyond. These are some 75% larger than the 86sqm lot sizes that are permissible under the planning controls that apply to the site. In the Southern Housing DA lot sizes range from 150m2 to over 400m2.
WHAT IS THE LOCATION OF HOUSING SOUTH?
The location of Housing South is adjacent to the existing southern entry to the site and extends down towards the proposed apartments precinct.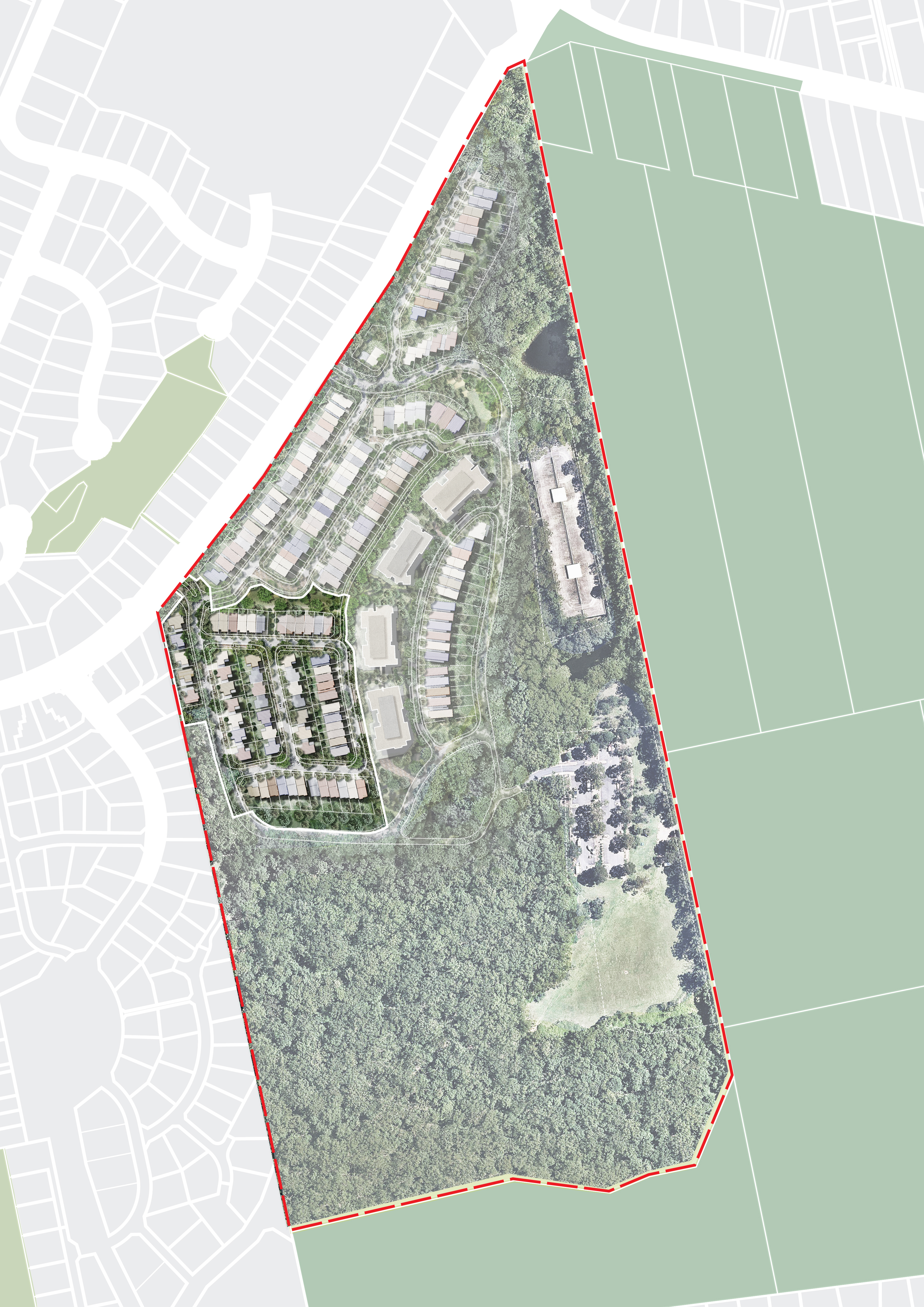 WHAT IS THE APPROXIMATE BREAKDOWN OF DWELLING CONFIGURATIONS IN HOUSING SOUTH?
Housing diversity will offer dynamic and engaging streetscapes and support a family friendly and socially inclusive community. Further detail on the breakdown of dwelling configurations are outlined below.
WHAT TYPES OF HOUSES WILL THERE BE?
Housing will comprise a range of attached and detached dwellings of 2 & 3 storeys. Layouts, configurations and typologies will vary providing a good mixture of 3, 4 and 5 bedroom houses.
WHAT IS THE PARKING PROVISION FOR EACH HOUSE?
Each house will be provided with two off-street, car parking spaces. Additional on street visitor parking will be provided within the development.
WHO IS THE ARCHITECT THAT HAS DESIGNED THE HOUSING SOUTH PRECINCT?
Each house has been architecturally designed by our expert in-house design team – Mirvac design, drawing on sustainability and the natural palette of the forest for inspiration, ensuring a high-quality architecturally designed outcome that complements the surrounding environment.
WHO IS GOING TO BUILD THE HOUSES?
The construction of each house will be completed by our expert in-house construction team – Mirvac Construction, ensuring the highest quality standard is delivered.
WHAT PRIVATE OPEN SPACE IS PROPOSED WITHIN EACH DWELLING?
Each housing dwelling with have private open space included in their lot. Each house will be complemented with a generously proportioned, high quality ornamental native landscape character. Plant selection has taken cues from the surrounding native palette to provide a sense of forest living that is combined with a functional, robust and low maintenance landscape design approach that enhances the architecturally designed homes.
WHAT SUSTAINABILITY INITIATIVES ARE BEING PROPOSED WITHIN EACH DWELLING?
All homes will be fitted with water and energy efficient fixtures complimented with solar panels to help offset energy usage and a rainwater tank plumbed to recycle captured roof water for washing machine, toilet flushing and private yard use. Offsite pre-fabricated construction methods are also proposed to reduce onsite waste generated during the build phase.
3. DA #3 - APARTMENTS PRECINCT
HOW MANY APARTMENT BUILDINGS WILL THERE BE?
There are a total of 4 apartment buildings which is a 50% reduction from the 9 permissible as part of the rezoning master plan.
HOW MANY APARTMENTS WILL THERE BE?
The Concept Plan proposes a 37% reduction in the number of apartments from 400 to only 252. The 252 apartments will be spread over 4 buildings. This reduction reduces the density of apartments creating a superior urban design outcome with greater separation, buffer zones and transition to the forest areas.
WHAT IS THE APPROXIMATE BREAKDOWN OF 1-, 2-, 3+ BEDROOM DWELLINGS?
The detailed development application proposes a diverse range of housing typologies with varying apartment sizes, layouts, and configurations.
HOW MANY CAR SPACES WILL THERE BE AS PART OF THE APARTMENTS PRECINCT?
The following provision has been made with respect to parking. This provision is based on achieving the right approach between RMS guide to traffic generating developments, proximity to the Cherrybrook Metro station and Council's guidelines.
- 1 bed - 1 space.
- 2 bed - 1.5 spaces.
- 3 bed - 2 spaces.
- 4 bed - 2 spaces.
- Visitor parking at the rate of 1 space per 5 apartment dwellings.
HOW MUCH LANDSCAPED AREA IS PROPOSED AS PART OF THE APARTMENTS PRECINCT?
The proposal provides 15% of the apartment precinct site area as deep soil zones (double the Apartment Design Guideline guide), 47% as landscape area and 25% allocated as communal open space. Suitable setbacks have also been designed to allow for landscape and deep soil planting areas around the buildings ensuring an appropriate landscape response and visual privacy to apartments.
4. SOCIAL AND ENVIRONMENTAL SUSTAINABILITY
WHAT SUSTAINABILITY INITIATIVES WILL MIRVAC SEEK TO IMPLEMENT?
Mirvac is committed to ensuring that the proposed development conserves, restores and enhances the important ecological aspects of the site to create a positive environmental and social outcome. The project will feature a high level of social and Environmentally sustainable initiatives and will set standard for public open space. Some of the proposed initiatives can be found on the website, click here.
CONTACT
Mirvac is committed to building a positive and enduring relationship with the broader community and we encourage all those with an interest in Coonara Avenue to register here for updates.
If you would like to get in touch with the project team please email coonaracommunity@mirvac.com or call 1800 531 535.